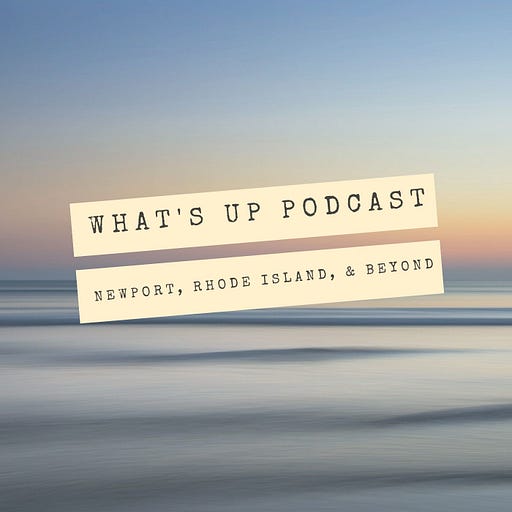 Feb 1 • 37M
WUN-ON-ONE: A conversation with Newport Mayor Xay Khamsyvoravong
Plus: Your What'sUpNewp Afternoon Update
From the award-winning team behind What's Up Newp, What's Up Podcast brings you interesting conversations and moments from Newport, Rhode Island & beyond.
What's the latest with the Pell Bridge Ramps project? Is school regionalization between Newport and Middletown still being discussed? What are members of Newport City Council focusing on and what can we expect to change in 2023?
Newport Mayor Xay Khamsyvoravong joined What'sUpNewp this afternoon to answer those questions and discuss much more. Listen above or watch below.
More from What'sUpNewp
The site includes salt marsh and scrub-shrub habitat, visible from the path, railroad, surrounding houses, and boats out at sea
1 current, 1 former officer face union embezzlement charges
One current and one former Rhode Island police officer are facing charges related to the alleged embezzlement and misuse of police union funds, the state attorney general's office said.
Representative Finkelman appointed to Small Business and Corporations Committees
Elected to the House of Representatives in November 2022, Representative Finkelman is the Owner/President of The Egis Insurance Group, specializing in insurance, consulting, and employee benefits.
MVYRADIO awards 6th round of 'Business Diversity Initiative' grants
MVYRADIO announced this week that it has awarded its latest round of quarterly 'Business Diversity Initiative' grants to local businesses.
City of Newport to open Emergency Overnight Warming Center
At-Risk Residents Encouraged to Seek Overnight Shelter at City's Maritime Center
Brady's unprecedented career filled with highlight moments
Brady did more than his part to fill the video vaults at NFL Films. Here are just a few of his greatest moments:
Nantucket schools targeted by ransomware attack
Public schools on the Massachusetts island of Nantucket remained closed on Wednesday a day after a ransomware attack targeted the district's computer system and prompted officials to send students home early.
Treasurer Diossa marks National Unclaimed Property Day with a Call to Action
Today, on National Unclaimed Property Day, Rhode Island General Treasurer James A. Diossa is encouraging all Rhode Islanders to find out if they have unclaimed property.
Reaction to Tom Brady announcing his retirement for 2nd time
Reaction from social media and elsewhere poured in after Tom Brady announced his retirement for the second and final time on Wednesday.
Boston Symphony announces lineup for 2023 Tanglewood season
There will be something for everyone at Tanglewood this summer, from traditional performances by the Boston Symphony Orchestra and the Boston Pops to shows featuring dozens of new performers, conductors, and composers as well as the crowd-pleasing popular artist series, the BSO announced Wednesday.
26 athletes who competed into their 40s
Looking for inspiration to stay fit and competitive as you age? Check out our list.
Tom Brady retires at 45, insisting this time it's 'for good'
Tom Brady, who won a record seven Super Bowls for New England and Tampa, has announced his retirement.
Cities with the most expensive homes in Providence metro area
Stacker compiled a list of cities with the most expensive homes in Providence metro using data from Zillow.
Beyoncé to perform at Gillette Stadium on August 1
Following the wildly successful release of BEYONCÉ's seventh studio album, RENAISSANCE, the global superstar has announced RENAISSANCE WORLD TOUR today, her first solo tour in over six years.
Tennis Hall of Fame is celebrating Black History Month with two new education initiatives
The ITHF has announced 16 new additions to the digital exhibit Breaking Boundaries in Black Tennis, and will partner with the National Archives to host a lecture discussing Althea Gibson on Feb. 27
Municipal leaders announce priorities for legislative session
The League's priorities reflect their focus for the legislative session and position on areas of critical importance to municipalities and taxpayers.
Five IMOCAs are charging south in the tradewinds
---
Recent Local Obituaries
November 29, 1930 – January 27, 2023
September 22, 1950 – January 29, 2023
March 21, 1961 – January 25, 2023
---
Weather
---
Popular Stories Right Now
---
Delivering worthwhile local news is truly a community-wide effort. It takes a dedicated crew and a loyal readership working together to make it happen. If you appreciate what we do, please consider supporting us today!
When you support What's Up Newp, you support your community.