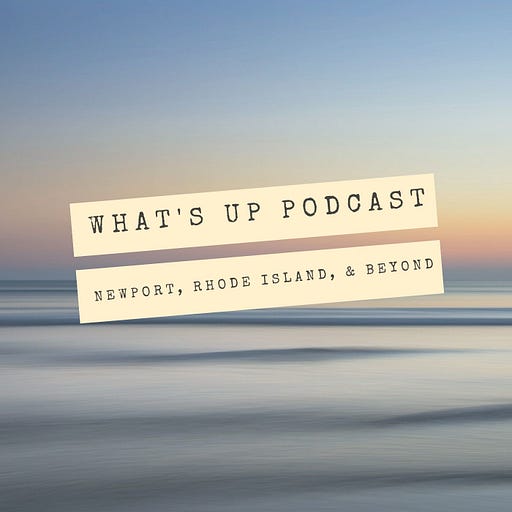 Jan 25 • 43M
A conversation with Newport School Superintendent Colleen Burns Jermain
Plus: Newport International Boat Show generates $26.1 million in economic impact
From the award-winning team behind What's Up Newp, What's Up Podcast brings you interesting conversations and moments from Newport, Rhode Island & beyond.
With construction underway at Rogers High School, regionalization with Middletown in limbo, and growing concerns in schools across the country about behavioral health issues – What'sUpNewp welcomed back Newport School Superintendent Colleen Burns Jermain for her regular monthly What'sUpNewp conversations on Wednesday.
We took a break over the holidays, but issues did not, and we were anxious to catch up with the superintendent about Rogers High School construction, regionalization, the current school year, and more.
---
More from What'sUpNewp
The race benefits the Newport Public Education Foundation, and sponsorship opportunities are available for local businesses.
A recent economic study found that the boat show, which is one of the largest in-water events in the country, had a total economic impact of $26.1 million.
Identical twin dance crew takes audiences from the roots of street dance to the glitz and glamour of Broadway
Seniors Living in Newport's North End to Get the Gift of Mobility Thanks to New $70K Federal Pilot Program
US-flagged 11th Hour Racing Team sets off on Leg 2 of The Ocean Race 2022-23 from Cabo Verde, to Cape Town, South Africa
Conditions are slow, but tactically challenging
Lieutenant Governor Matos Announces Entrepreneurship Challenge Finalists & Live Pitch Competition
Among the 20 prestigious yacht clubs that will toe the line for Corinthian sailing's premiere event will now be two teams hoping to carry forward the momentum from the last time they competed in this event: Royal Sydney Yacht Squadron and Southern Yacht Club from New Orleans, which claimed the title in 2021.
Stacker took the guesswork out of 50 random events to determine how likely they are to happen.
Governor McKee Announces $17,500 Down Payment Assistance for First-time Buyers in Rhode Island
To qualify, students must pass four or more letter-graded courses with no failing grades during the semester and earn a GPA of 3.5 or higher.
Read on to find out how Rhode Island stacks up and for more information about the best fishing holes and species in each state.
So which states are holding steady with hunting traditions? Take a look to see where Rhode Island ranks on the list.
The following is a list of library programs that adults can enjoy at the Tiverton Public Library in February 2023.
New head coach takes over program that has won national championships, produced Olympians and All Americans
---
Weather
---
Recent Local Obituaries
March 28, 1958-January 16, 2023
January 21, 2023
September 19, 1932 – January 22, 2023
---
Popular Stories Right Now