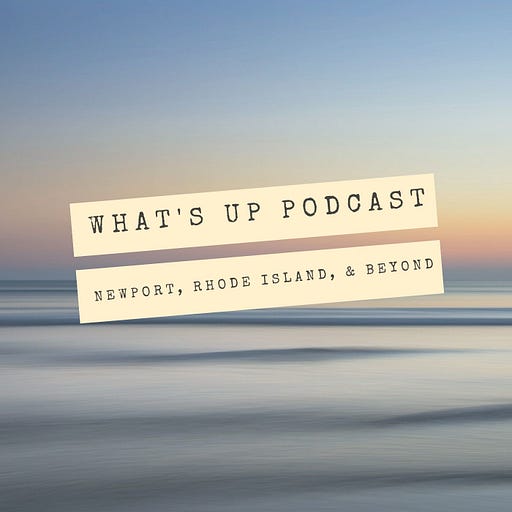 Feb 15 • 38M
A conversation with Jay Sweet and Dan Swain, Newport Festivals Foundation
Plus: What's Up Interview: Andrew Marlin of Watchhouse – duo coming to United Theatre in Westerly March 2 | Newport Police ID man found dead in portable toilet |
From the award-winning team behind What's Up Newp, What's Up Podcast brings you interesting conversations and moments from Newport, Rhode Island & beyond.
Jay Sweet and Dan Swain, the Executive Director and Development Director of Newport Festivals Foundation, joined What'sUpNewp today for a conversation about the Foundation, the Newport Folk Festival, Newport Jazz Festival, and more.
The Latest From WUN
RI Craft Beer Week will celebrate RI's beer manufacturers and feature events scheduled at your favorite Rhode Island bars, restaurants, package stores, as well as on-premise at RI's 35+ breweries/brewpubs.
The Newport Police Department on Wednesday released the name of the man who was found dead in a portable toilet on Monday.
Newport Folk Festival veterans formerly known as Mandolin Orange
Rihanna's Super Bowl halftime show Sunday dazzled in more ways than one.
A third member of an Atlanta-based conspiracy that bilked unsuspecting seniors in Rhode Island and several other states out of more than $3.2 million was convicted today in federal court in Rhode Island after pleading guilty to a charge of conspiracy to commit money laundering
Stacker compiled statistics on gas prices in Providence using data from AAA.
The events are set to take place from February 19 to March 11, 2023, and the committee promises to provide loads of entertainment and fun.
Chatfield, who is currently serving as the President of the Naval War College in Newport, has a distinguished career in the U.S. Navy and is expected to bring a wealth of knowledge and experience to the NATO Military Committee.
Stacker compiled a list of the best performing stocks in Rhode Island last week using data from IEX Cloud.
Stacker compiled countries where refugees are arriving from in Rhode Island using data from the Refugee Processing Center.